Gujarat Budget 2023-24: The general budget for the years 2023-2024 was presented by Gujarat's finance minister, Kanu Desai, on Friday 24 February.
Following the Gujarat elections, this is Bhupendra Patel, the state's chief minister, maiden budget. The 2023–2024 budget for the Gujarati government is three lakh one thousand crore rupees.
This budget is higher by 57053 crores than the budget from the previous year. Ahmedabad Metro Phase-II has been given a budget of Rs 18,000 crore, and the health sector has been given a budget of Rs 15,182 crore.
The Finance Minister stated that we aim to use this budget to offer facilities for farmers, the underprivileged, and people from other social classes.
Check out Gujarat Budget 2023-24 Highlights, Date, Time, PDF, Tax benefites and all other complete details from this page.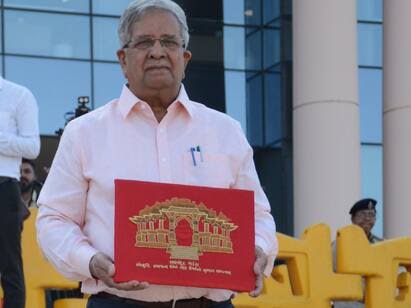 Gujarat Budget 2023 Overview
| | |
| --- | --- |
| Budget | Gujarat budget |
| Presented by | Finance minister Kanubhai Desai |
| Country | india |
| Financial Year | 2023-24 |
| Presented in | Vidhan sabha |
| Total expenditure | 3.01 Lakh crore |
| Date | 24 February 2023 |
| Official website | cmogujarat.gov.in |
Gujarat Budget 2023-24 Budget Highlights
1. LPG cylinders can be filled for free twice a year thanks to a budgetary allocation of Rs 500 crore.
2. CNG VAT in PNG was decreased from 15% to 5%. 50 additional electric buses would be purchased with Rs 24 crore. To develop the EV ecosystem, Rs 217 crore have been allocated.
3. At Gujarat's schools, 50,000 new classrooms will be constructed. 20,000 new computer labs will also be installed in classrooms all over Gujarat.
4. New plans for health infrastructure will be funded by a loan from the World Bank totaling Rs. 4,200 crore. Gujarat will receive Rs 64 crore in funding to open 400 Gyan Setu schools.
5. 150 additional facilities will be built to offer workers with food for Rs. 5. In addition, the Gujarati government will invest Rs 2 lakh crore over the following five years to improve the lives of the poor.
6. To give disabled people with facility support and the privilege of free ST bus travel, a provision of 52 crores has been created.
In addition, provisions have been made for the Sant Surdas and National Disability Pension Schemes. The Handicapped Pension Plan has been allocated Rs 58 crore.
Budget 2023 Major Updates
Here are the major Gujarat Budget 2023 Highlights presented by Finance Minister Kanu Desai in the Vidhan Sabha.
The budget's main features are the allocation of Rs. 905 crore for the Surat and Ahmedabad Metro Rail Project and Rs. 1066 crore for PMAY, which will provide 1 lakh homes in 12 months.
The 6 lane, 3350 crore Ahmedabad-Bhagodra-Rajkot motorway will be constructed.
6 lanes will be added to the Sarkhej-Gandhinagar (SG Highway), with funding of Rs 913 million.
Safari at the Statue of Unity in Ekta Nagar, 565 crores for the museum, and 12 crores for 10,000 students to ride electric two-wheelers.
Gujarat Govt Budget 2023 Pdf download
You can download Gujarat budget 2023-24 pdf from official govt website pmogujarat.gov.in. In the budget speech, Finance Minister Kanu Desai frequently cited the accomplishments of the Gujarat govt.
He declared that no additional taxes would be implemented by the government in this budget at the conclusion of his address on it. Also, no one is raising the previous tax.
Desai's previous budget did not include any additional taxes. Desai also disclosed a 10-lakh-rupee annual treatment for Maa Cards.
FAQs realted to Gujarat Budget 2023
What is the date of the Gujarat Budget 2023-24?
Gujarat State budget presented by Kanu desai on Friday, 24th February 2023.
What is total expenditure of Gujarat Government for 2023?
There is total 3.01 lakh crore budget expenditure of Gujarat government for FY23-24.